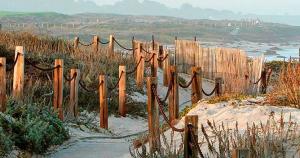 When you lead a group, are you fully present and connected with yourself and your members? A well-designed program is diminished if you have any anxiety about speaking in public. With the Essential Speaking approach, you develop mindfulness skills enabling you to be authentic, compel attention, and impact your group.
Join me as I speak about Presence and Connection…overcoming public speaking anxiety at the 48th Northern California Group Psychotherapy Conference in Asilomar June 1-3, 2018.
The conference is designed for group therapists and mental health professionals at all levels of experience. Over the course of three days, 33 workshops will be presented by various master group therapist, topics range from Harm Reduction Therapy to Organizational Consulting.
11 CEUs are available for this program. NCGPS is approved by the California Psychological Association to provide continuing professional education for psychologists. It  also satisfies the requirements of the BBS and  Nursing Board. As well as, the 12 hour core course, which is required as part of the training for becoming a Certified Group Psychotherapist (CGP).
Click here for more information about the conferences registration and accommodation options.