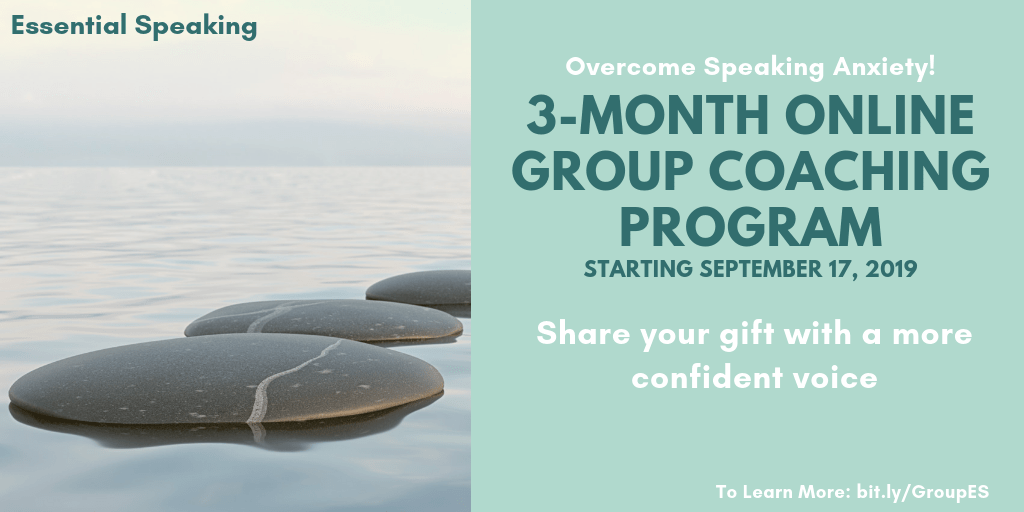 Join me so you can find the voice that is truly yours and speak without anxiety.
Here's what recent participants said after they completed the program:
"Working with Doreen was life-changing. I found an inner, grounded, real sense of confidence. My true voice and my strength were waiting for me all along." Sarah M.
"The program has had a dramatic positive effect on both my work life and my personal life. It goes much deeper than public speaking skills. I learned how to speak from my own Essence, while connecting to the Essence of my listener(s)." Emily A.
"The support I received from Doreen and my classmates provided a platform to grow and develop as a person. The class gave me life-long tools for engaging with everyone in my life, not just public speaking." Claire W.
"The program helped me explore the root of my public speaking anxiety, gave me tools on how to navigate through these challenges and opportunities to practice them weekly." Karie D.
To secure your space, sign up now. Here is the link:
Here are Program Details
Here is what you will get:
Weekly hour-long group coaching calls with check-ins ($2,200 value)
The Signature 7-Step Essential Speaking Course ($197 value)
Additional instructional videos ($97 value)
Exercises and assignments to make your transformation real
The opportunity to practice with the group, live on the calls
Extra resources including podcasts, articles, links
Ongoing email support from me during the 12 weeks ($600 value)
Plus a 30 minute private coaching session with me ($150 value)
Here are the topics we will cover each week:
Week 1 – Getting to Know You (your challenges)
Week 2 – Face to Face with Fear (the underlying causes)
Week 3 – Silence is Golden (how to calm your nerves)
Week 4 – The Power of Now (how to be centered)
Week 5 – Here's Looking at You (how to see and be seen)
Week 6 – The Lost Art of Listening (how to listen while speaking)
Week 7 – Positively Irresistible (how to speak from strength)
Week 8 – Wired for Connection (how to be with one person only)
Week 9 – The Confident You (how to be true to yourself)
Week 10 – Make Your Transformation Real – Applying the 7-Step Model
Week 11 – Make Your Transformation Real – Applying the 7-Step Model
Week 12 – Closing – Results, celebrations, next steps
And, here are the practical details:
12 meetings, September 17-December 12, 2019
Thursdays at 12:00-1:00 pm, Pacific Time
Online Zoom Video Meeting (you'll need a computer, tablet or smartphone with a camera and microphone)
6 people limit
$1147 (or payment plan of $350 per month after purchasing course material for $197. (Note: if you want the payment plan, you'll need to make arrangements with me first)
Sign Up: http://bit.ly/GroupES
Remember, my goal is to create and facilitate an inspired learning experience where you can reach the deep confidence to be yourself and speak freely and fully… without anxiety getting in your way.
To secure your space, sign up now. Here is the link:
I'm looking forward to this transformational journey with you.