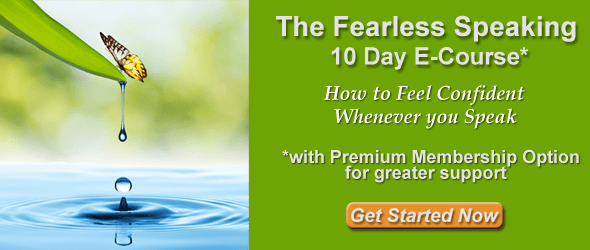 Fearless Speaking is the ability to speak in any situation and feel comfortable expressing yourself. Want to feel confident and natural whenever you speak? I created this Fearless Speaking E-Course just for you.
If you get anxious when you have to speak in public, I can help you. As a Psychologist with over 35 years experience and Training Director of Speaking Circles® International, along with my own personal journey of transforming stage fright into fearless speaking, I developed a life-changing system that enabled me and others to speak with confidence, and without fear in any situation.
This program is an innovative way to transform fear, one that is unlike any traditional speaking program because it is based on presence, authenticity, and connection.
Through the 10 daily lessons that will arrive in your email, I will reveal the 7 Secrets to Fearless Speaking along with exercises for practice, tips and techniques for calming your fear, and inspiration for your Fearless Speaking journey.
To Get Started Now, Click Here